Deburring Tools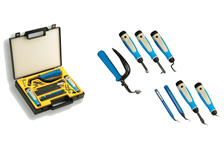 NOGA deburring systems, the acknowledged world leader in hand deburring system/tool, constantly invests in quality product innovations. Our stated aim is to offer our customers the most competitive and best solutions for their deburring applications.

Noga deburring system is proud to offer the most comprehensive and versatile line of manual deburring tools. Each of Noga deburring system consists of a cutting blade (or blades) held in a suitable holder/handle.

Noga deburring System is your best solutions for removing burrs from any type of materials or applications such as deburring rough edges in holes, for deburring the inside break through of cross holes and also for deburring sharp corners on external surfaces.

Noga's most popular deburring system is the swivel-blade type. These deburring tools consist of a cutting blade, freely swiveling in a handle, or in an extendable blade holder which fits into a handle.